Traditional Japanese Sweets Masuouken:
Have some charming yaki dango (toasted dumplings) that'll keep you coming back for more!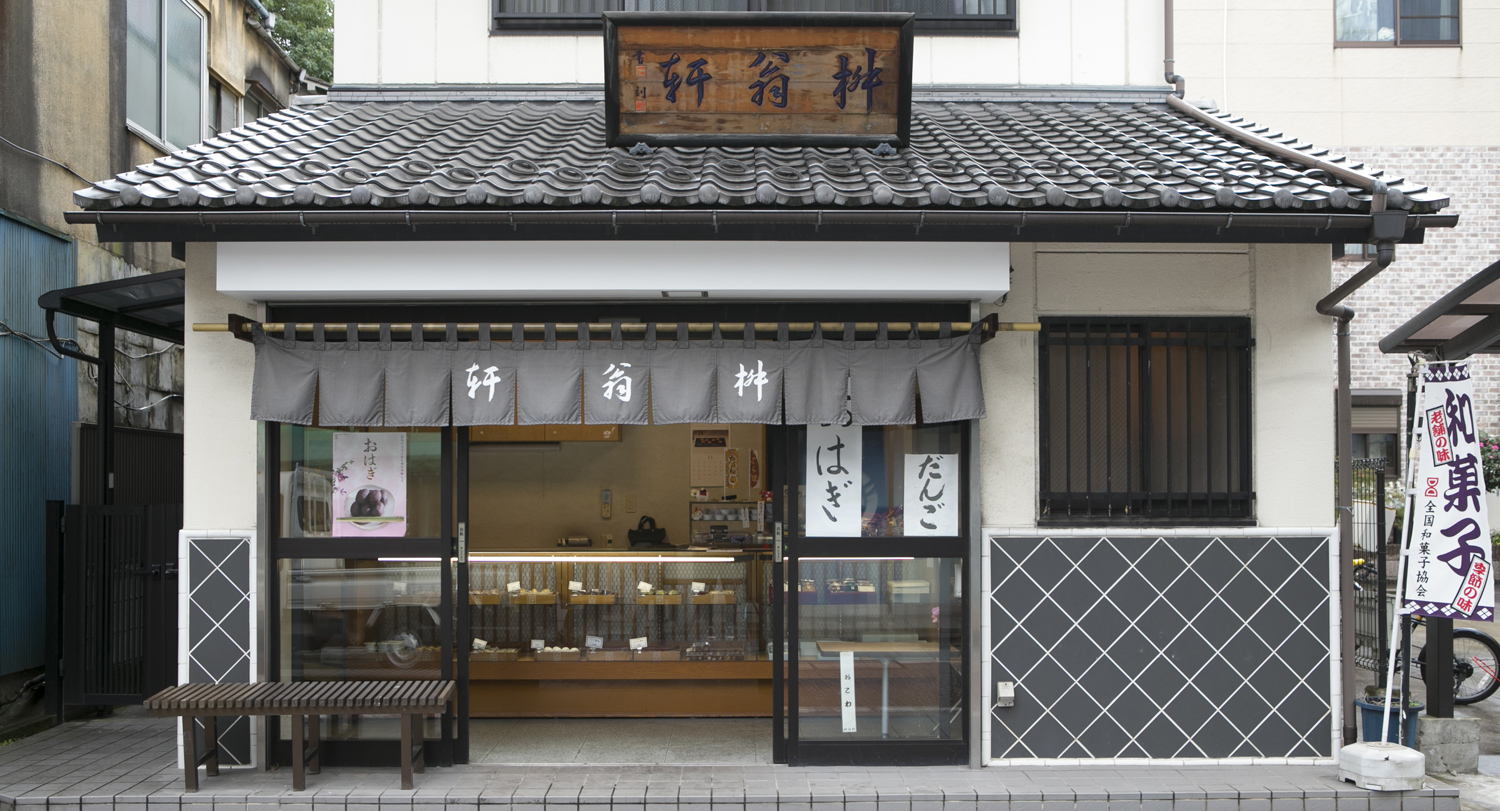 Taking a break with some tea and dango during a trip down the Tokaido road; without a doubt, this is the kind of scene that many have seen on television in historical dramas and the like. Warm tea and plump dango have been relieving travelers of their fatigue since long ago. Masuouken is a Japanese sweets specialty shop you'll find at the entrance to the Shinagawa-Shuku, the first station on the Tokaido road. At Masuouken, there are all kinds of hand-made Japanese treats lined up ready for you in the showcase, including the shop's specialty: Yaki dango.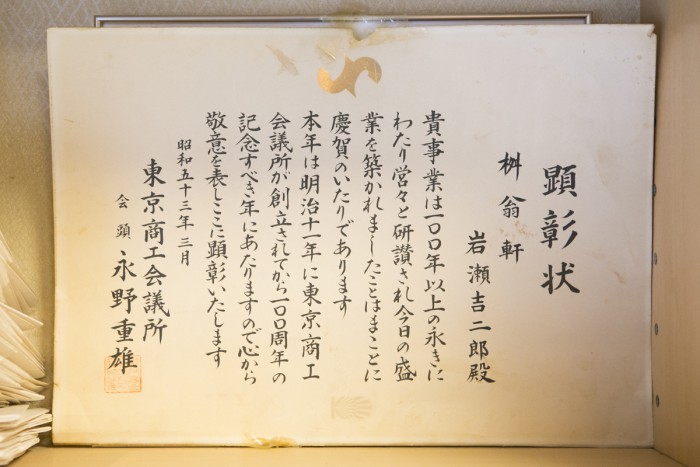 "My shop is off to the side of the shopping district on Kitashinagawa Hon Dori. It's basically considered the entrance of the Shinagawa-Shuku on the Tokaido road. Well…for people coming to Edo, I suppose it would be the exit! (laughs) They say that the Shinagawa-Shuku of the Edo Period was really lively. There were shibai-goya playhouses and such… We've been in business for about 200 years…We were originally a teahouse, and we used to send out teatime snacks to shops where there'd be women. I used to hear stories like that all the time from my grandfather and my great grandmother. I'm just about to turn 80 and we're the oldest business around here…"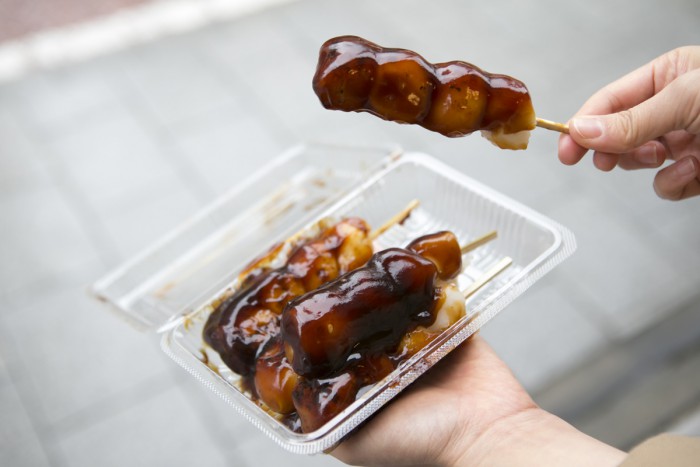 This is the kind of delightful talk you'll hear from the 6th generation running Masuouken: Kichijiro Iwase. Every morning he makes everything you see lined up in the shop fresh by hand. The most popular treats available at the shop are the yaki dango. The dango are rolled up by hand one-by-one after grinding them in a stone mill and pounding them with a pestle, giving them a springy, firm texture. A salty-sweet sauce combined with a pleasantly burned aroma, result in a taste that'll have you lost in the moment. The sweetness is only slight, so you'll not tire of it; rather, these dango treats will have you grabbing for one last stick after another until you've had your fill. This specialty Japanese sweets shop is popular with both locals and tourists alike.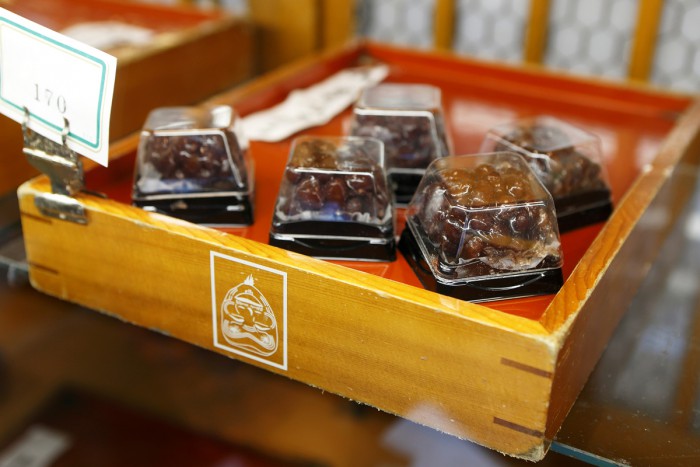 Other treats you'll find lined up at the shop include gently sweetened Japanese treats like Dainagon kanoko, Murasame manju and Dora yaki; you'll also find popular seasonal treats like Sakura mochi and Kashiwa mochi. There's a rich selection available, but if you don't know what to choose, Iwase-san recommends going with your instinct; he says that's the best way to find what's right for you.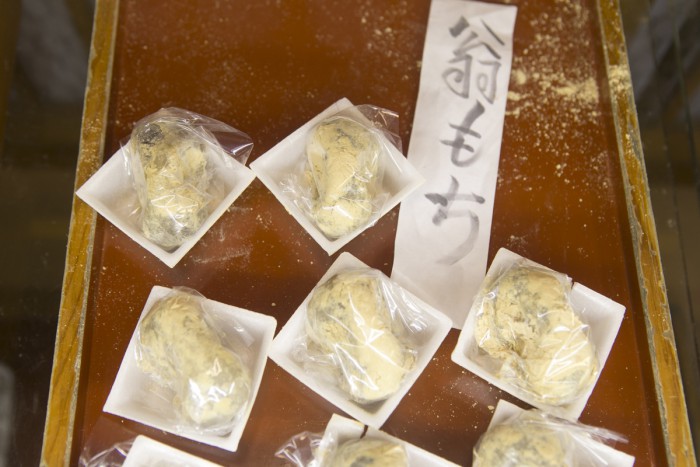 "If you ask me what I recommend I couldn't give you an answer. They're all made here and they're all great! My sweets are like my babies. I love them all the same and you couldn't ask me to choose between them. Once you get into the shop, just go with whatever catches your eye first. If you end up liking what you've chosen, you can always come back for more!"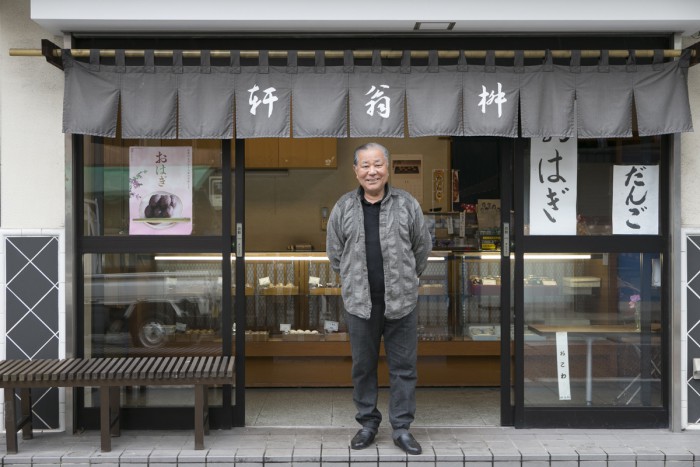 When you're taking a stroll down Kitashinagawa and Gotenyama, which follow the Tokaido road, first stop by Masuouken to go somewhere that'll take you back to the lively times of the Shinagawa-Shuku of the Edo Period, while you enjoy some yaki dango.
Name

Traditional Japanese Sweets Masuouken

Address

1-2-8 Kitashinagawa, Shinagawa-ku, Tokyo

TEL

Open

8:00〜20:00

Closed

Irregular holidays