Tenjinyu ("Onsen" Hot Spring):
Gentle Warmth with Mineral-Rich Black Bath Water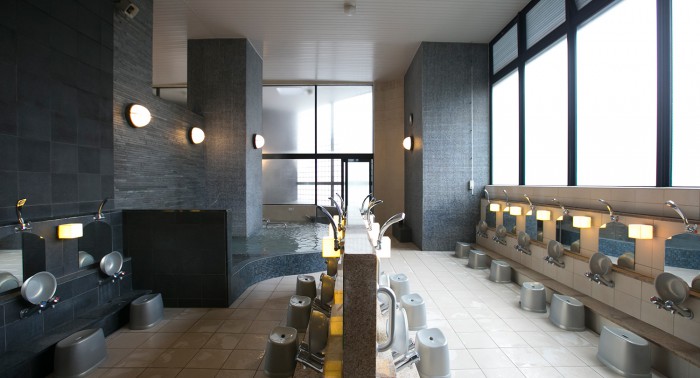 At Tenjinyu, you'll find a hot spring bath that will comfortably relieve your fatigued mind and body from the business of everyday life. Tenjinyu is a public bathhouse popular with the neighborhood's residents, where you'll be able to enjoy plentiful natural hot springs featuring vegetal properties that have attracted attention for their excellent warming effects. But that's not all you'll find here; let's take a look at the secrets of a bathhouse that people want to try out as soon as they hear about it and keeps them wanting to come back over and over.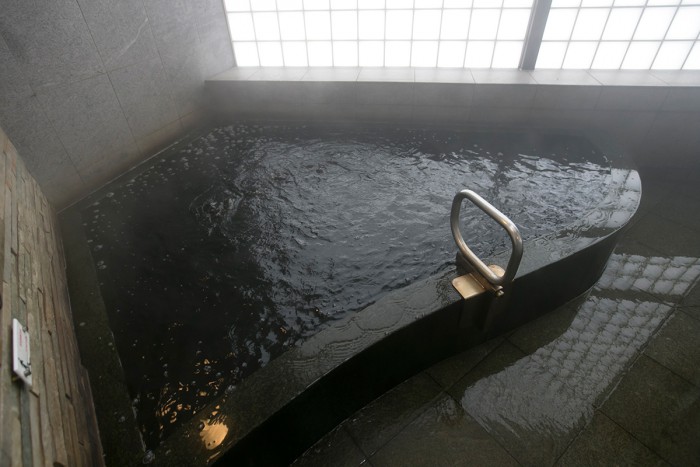 Sometimes white and cloudy, sometimes rosy brown and sometimes crystalline and colorless; hot springs feature a variety of colors depending on the elements they contain. At Tenjinyu, the bath water is jet black. The blackness of the water came about due to humus that resulting from decaying vegetation one million years ago which slowly blended in with the ground water over the course of many, many years. This humus-containing "vegetal spring" enjoys a great reputation due to its excellent warming effect and properties that leave skin silky smooth. The bath water at Tenjinyu is said to feature a particularly high concentration of humus seen at no other hot spring in Tokyo.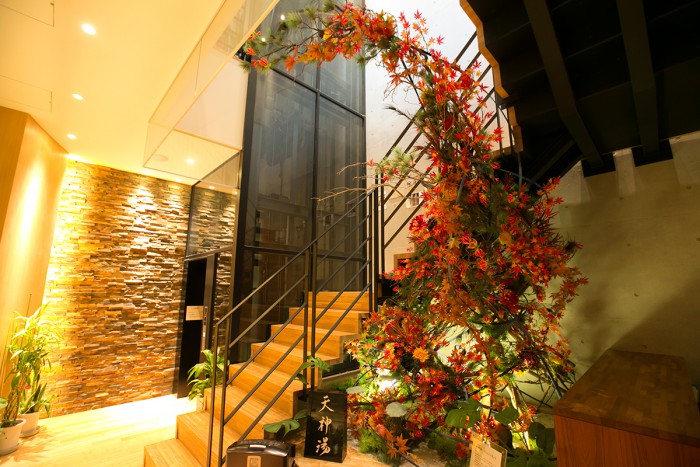 In the common bathing area, you'll find jet baths, vibrating baths and extra hot baths featuring both colorless crystalline bath water as well as the black baths containing vegetal spring water. Equipped with elevators, Tenjinyu is designed to be a fully accessible (or "barrier-free") facility. Alongside the front desk you'll see fantastic flower displays along with a waterfall that gives the atmosphere a complete sense of comfort like you would find at a luxury hot spring inn. You'll also find that we've installed massage chairs within our expansive waiting lobby.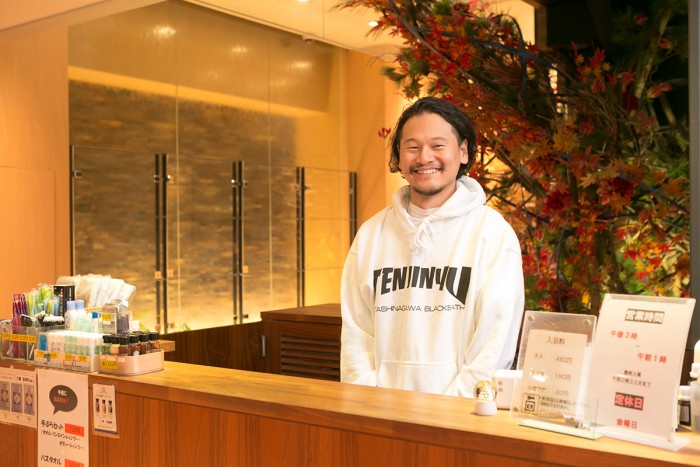 Right now, Tenjinyu is actually run by two brother, the eldest being Kaneaki Okamura who was formerly a professional of the apparel industry. That's the reason that you'll be able to find lots of sensible design in and around the facilities. For instance, there are door entrance curtains featuring artistic depictions of the Statue of Liberty alongside the New York skyline. Aside from that, you'll find original goods on sale at the front desk as well such as wash cloths, hoodies and other items, which are must-haves for regular bath-goers and are also popular as souvenir gifts.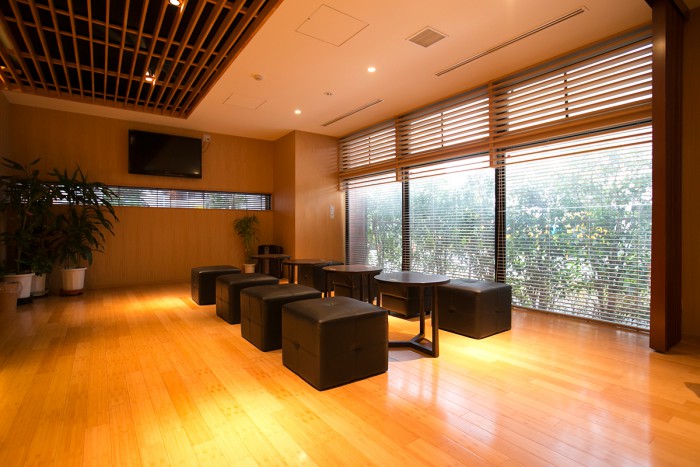 For anyone who is thinking about coming down to the bathhouse, we ask that you please read over the Bathing Rules and make sure you know them before enjoying being comforted by the abundant effects of our bath water. Please don't forget to douse yourself in hot water before getting into the bath, don't bring your towel into the bath, don't scrub yourself while in the bath, don't bring any books or magazines with you and please don't occupy the washing area for longer than you need to; these are some of the public bath rules here that you'll need to know in order to ensure that everyone who visits us can enjoy a comfortable bathing experience. You'll find the rules posted at the entrance to the common bathing area as well, so please feel free to check them before heading into the bath.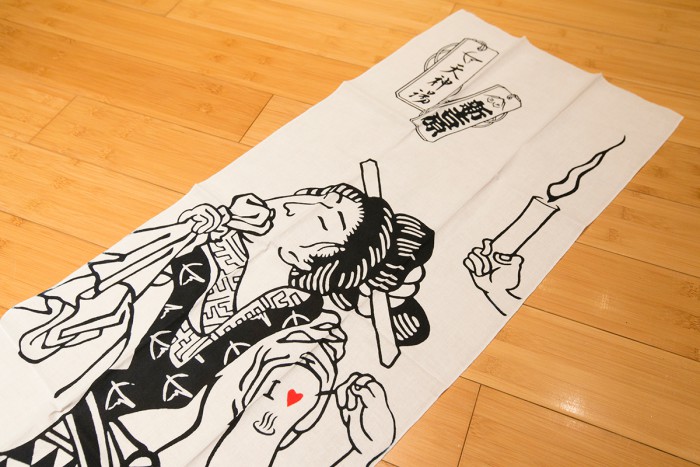 The excellent warming effect of the "Kuroyu" black bath water has some people saying they've experienced an improvement in their excessive sensitivity to cold by continuing to bath in it. With your original Tenjinyu wash cloth in hand, you'll feel just like a regular once you visit. Now, let's drive away that cold and tired feeling from your body and warm it to the core!
Name

Kitashinagawa spa TENJINYU

Address

2-23-9 Kitashinagawa, Shinagawa-ku, Tokyo

TEL

Open

15:00~25:00 (Last admission 24:30)

Closed

Fridays

URL