Trust City News
2015.07/30
[Event Report] July 30th (Thu.) to August 1st (Sat.) 2015
Gotenyama Trust City Summer Festival: Aloha Night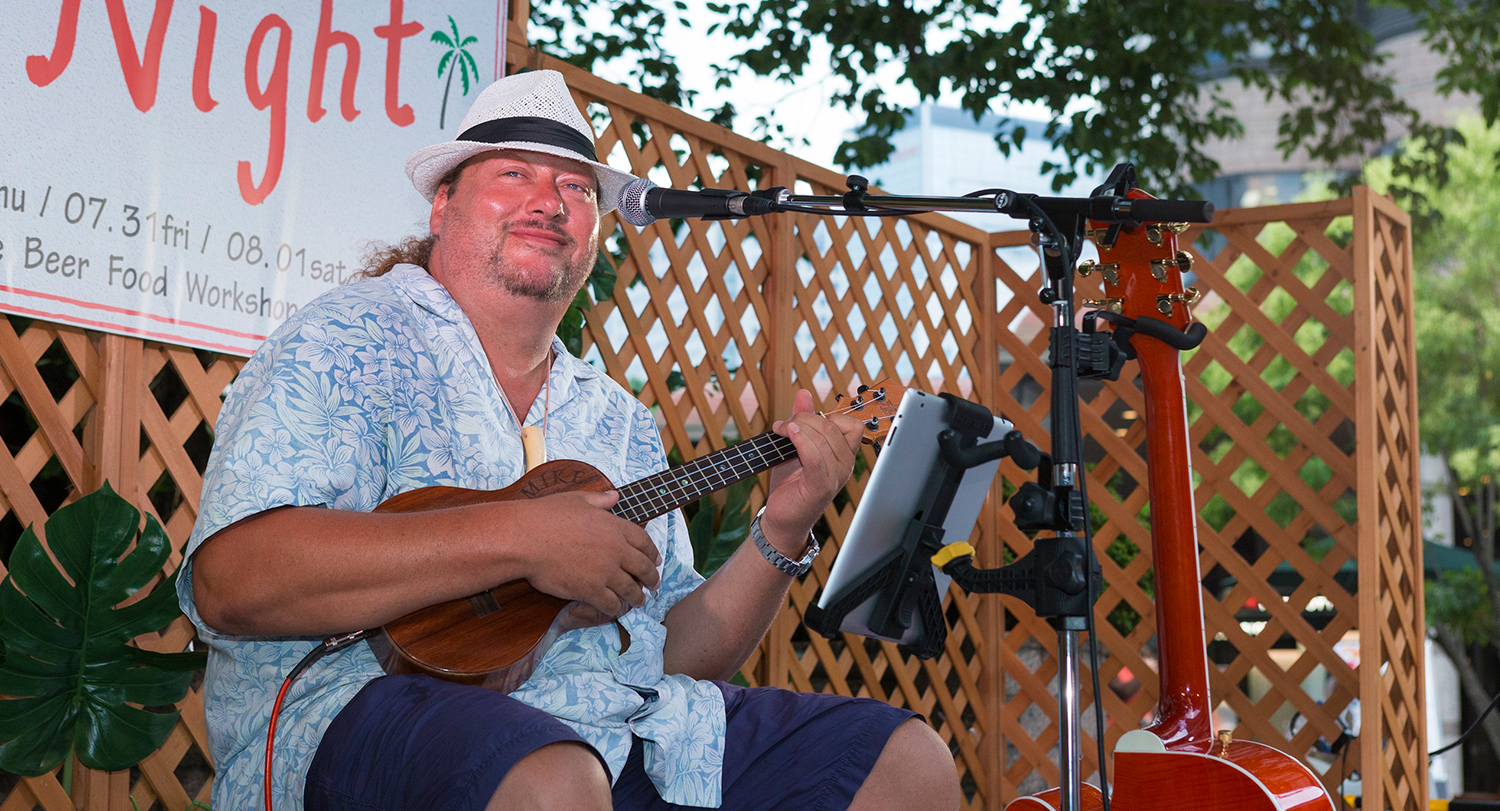 For the three days between July 30th and August 1st of 2015, there was a summer festival held, which was based on a Hawaiian theme; the event was Aloha Night. The festival was held in the open area in front of Tokyo Marriott Hotel at Gotenyama Trust City.
The event, which was an opportunity to enjoy hula dancing and Hawaiian music with a Kona beer in hand, was a complete success, with many people deciding to take part despite the continuing heat. Thank you very much!
◆Hawaiian Music&Dance Stage
At the open area (common terrace) of the Tokyo Marriott Hotel, participants found themselves in front of a specially constructed stage. The stage was absolutely on fire during the event, with acts such as Mike Guiry (a Ukulele player and Hawaiian vocal performer), as well as performances from 7 other groups consisting of a total of more than 70 musicians and performers.
The last day of the event (August 1st) saw performances one-after-another by dancers dressed in multicolored attire. There were also instances where the entire festival area came together as one to hula dance together. As the sun set and a pleasant wind began to blow through the area, without pause the atmosphere became more relaxed. With a beer in hand, visitors were treated to a most unforgettable Aloha Night as if they were actually in Hawaii.
◆Hawaiian Beer Terrrace
Around the stage there was a beer terrace open to visitors, featuring Hawaiian food alongside the top craft beer found on the Hawaiian Islands: Kona Beer.
There were four kinds of Kona Beer available. While it goes without saying that the flavor itself great, the beer also owes some of its popularity to the cute design. On the terrace, some people were enjoying the different kinds of Kona beers available, with some being fruity and others featuring a richer flavor.
At a Hawaiian kitchen car, one could find a perfect snack to go with their beer, such as Mochiko Chicken, Yakuzen (medicinal cooking) garlic shrimp, as well as Hawaiian shave ice.
◆Hawaiian WorkShop
There were also loads of workshops for the kids to enjoy. The "seashell hunt", where kids could search through the sparkling white sand for their favorite shells, was a big hit. Participants used the shells to decorate picture frames, an activity that kids and parents alike were enthralled by.
At the Hawaiian stencil area, people used designs associated with Hawaii like flowers, blue ocean waters, and sandy beaches, to create original goods such as macaroon hair bands, pen holders, denim bags and more. Friends were seen with matching macaroon hair bands to take home. Also, in continuation with last year, the event also featured "fish therapy" provided by doctor fish who clean up dead skin cells. The children even loved the spectacle, with many being wowed by the sheer number of fish in the tanks.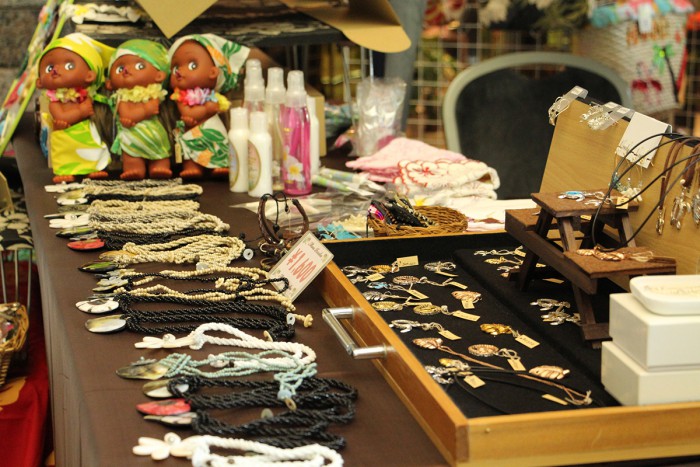 ◆Hawaiian Market
Also a Hawaiian market was held at the office entrance on the 1st floor of the Gotenyama Trust Tower, there was. With lots of goods featuring motifs based on palm trees and plumeria flowers, the market featured all kinds of Hawaiian-esque items. Some people who bought Hawaiian shirts at the market and wore them for the event festivities as well.