Hara Museum of Contemporary Art
My Favorites: Toshio Hara Selects from the Permanent Collection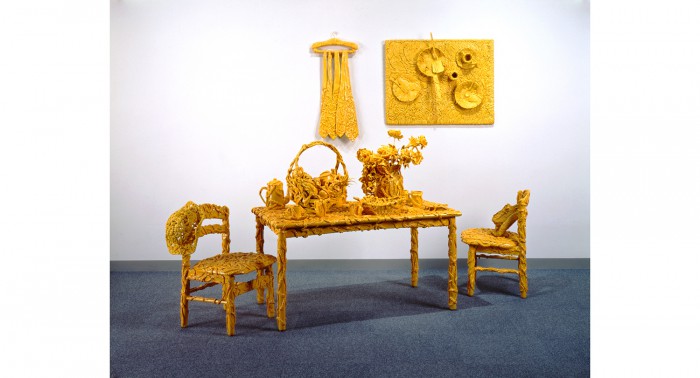 <Yayoi Kusama, Self Obliteration, 1980 mixed media size variable ©Yayoi Kusama>
My Favorites: Toshio Hara Selects from the Permanent Collection

January 6 (Saturday) – June 3 (Sunday), 2018
Part I: January 6 (Saturday) –March 11 (Sunday), 2018
Part II: March 21 (Wednesday/national holiday) –June 3 (Sunday), 2018
※Closed from March 12 (Monday) to March 20 (Tuesday) for changing of exhibits.
Since he started the Hara Museum in 1979 as one of Japan's first museums dedicated to contemporary art, the director Toshio Hara has devoted himself to the promotion of international exchange and the advancement of art and culture through the holding of special exhibitions, international traveling shows and other activities. This permanent collection show, which stands out as the first to be curated by Toshio Hara himself, features works that he personally selected from the collection's approximately 1,000 pieces of post-1950s art which spans the entire spectrum of media from painting, sculpture and photography to video art and installation. The first of this two-part exhibition focuses on artworks collected during the first decade or so of the collection's history, from the late '70s through the first half of the '80s, while the second showcases works that have appeared in exhibitions held at the museum over the years. Together they provide an introduction to the museum over its almost 40-year history, as well as the major art trends that have prevailed from the middle of the 20th century onward.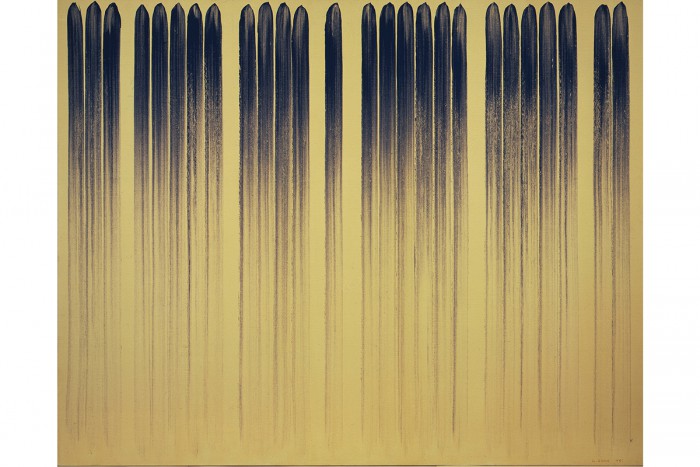 <Lee Ufan, From Line No.790323, 1979 oil on canvas 181×227 cm ©Lee Ufan>
■Works Selected for the Exhibition

Part I showcases artworks acquired during the decade or so from 1977 when the Foundation Arc-en-Ciel was first established. These include works by major figures who came to define the art of their times, such as the abstract expressionists Jackson Pollock and Mark Rothko; the neo-dadaists Robert Rauschenberg and Jasper Johns; and Andy Warhol, Roy Lichtenstein and other figures of the Pop Art movement that came to dominate the art scene. Also included are members of the European avant-garde who infused their art with an experimental spirit, such as the painters Jean Dubuffet and Karel Apel, the sculptors Arman, César Baldaccini, Jean Tinguely and others. Leading figures of post-WWII Japan include Toshimitsu Imai, On Kawara, Tetsumi Kudo and Aiko Miyawaki. Japanese artists still active today include Yayoi Kusama, Ushio Shinohara, Hiroshi Sugimoto and Lee Ufan. Also featured are works by Nam June Paik and Ai Weiwei, two Asian artists who have exerted considerable influence throughout the world.。
Part II focuses on artists from both Japan and abroad whose artworks were featured in solo or group exhibitions at the Hara Museum. This group encompasses all mediums and includes both artists with long established careers such as Nobuyoshi Araki, William Kentridge, Hiroshi Sugimoto and Yoshitomo Nara, and relative newcomers such as Masako Ando, Kohei Nawa, Mickalene Thomas and Izumi Kato. All are characterized by a unique style and original approach towards their medium and subject matter.
■List ofArtists(tentative)

Part I:Ai Weiwei, Josef Albers, Karel Appel, Arman, César,Christo & Jeanne-Claude, Jim Dine, Jean Dubuffet, Erró, Lucio Fontana,Buckminster Fuller, Willem de Kooning, Toshimitsu Imai, Jasper Johns, On Kawara, Tetsumi Kudo, Yayoi Kusama, Roy Lichtenstein, Robert Mapplethorpe, Tomio Miki, Aiko Miyawaki, Nam June Paik, Jackson Pollock, Robert Rauschenberg, George Rickey, Mark Rothko, Edward Ruscha, Ushio Shinohara, Kumi Sugai, Hiroshi Sugimoto, Takis, Jean Tinguely, Andy Warhol, Tom Wesselmann, Lee Ufan

Part II:Masako Ando, Nobuyoshi Araki, Jan Fabre, Izumi Kato, William Kentridge, Yasumasa Morimura, Yoshitomo Nara, Kohei Nawa, Mika Ninagawa, Rika Noguchi, Malick Sidibe, Hiroshi Sugimoto, Tabaimo, Mickalene Thomas, Adriana Varejaõ, Miwa Yanagi
[Exhibition Details]
Title

My Favorites: Toshio Hara Selects from the Permanent Collection

Dates

January 6 (Saturday) –June 3 (Sunday), 2018 [Part I: January 6 (Saturday) –March 11 (Sunday) / Part II: March 21 (Wednesday/national holiday)–June 3 (Sunday)] ※Closed from March 12 (Monday) to March 20 (Tuesday) for changing of exhibits.

Venue

Hara Museum of Contemporary Art
4-7-25 Kitashinagawa, Shinagawa-ku, Tokyo 140-0001
Hara Museum official site >>> >>>

Tel

Hours/span>

11:00 am – 5:00 pm, Wednesdays until 8:00 pm (5:00 pm if a national holiday / last entry 30 minutes before closing)

Closed

Mondays (except January 8, February 12, April 30), January 9, February 13, March 12-March 20, May 1

Admission

General 1,100 yen; Students 700 yen (high school and university) or 500 yen (elementary and junior high); Free for Hara Museum members, students through high school every Saturday during the school term; 100 yen discount per person for groups of 20 or more

Directions to the museum

5 minutes by taxi or 15 minutes on foot from JR Shinagawa Station (Takanawa exit); or from the same station take the No.96 bus, get off at the first stop (Gotenyama), and walk 3 minutes

Guided tours

Free Japanese-language tours are given by a museum curator every Sunday and national holiday, starting at 2:30 pm and lasting about 30 minutes. No reservation is required. Free mini-tours in English are also available upon request.